Downloadable Demostration and Tutorial Videos
Overview
A quick overview of the system and grids used.
Download Trailer Video (3 minutes, 22 MB)
Hardware
The hardware showing functions of the switches and lights.
Download Hardware Video (2 minutes, 61MB)
Getting Started
How to get started taking fast and accurate strain measurements.
Download Getting Started Video (3 minutes, 23MB)
Measuring Strain
How to measure strain, calibrate, specify grid size and material properties. The grid stitching function is shown along with many other features.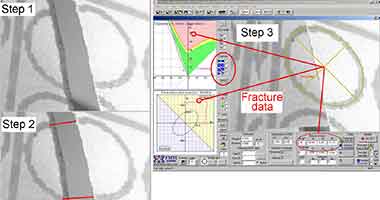 Download Measuring Strains Video (4 minutes, 48 MB)
Reports
How to exported data to spreadsheets and printed reports.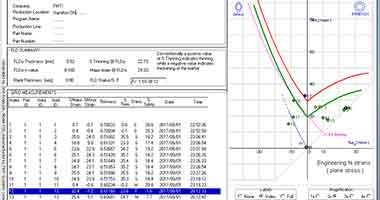 Download Reports Video ( 2 minutes. 14MB)
Grids
Compatible grids: Circle, Square and PolkaDot Grids.
Download Grids Video (2 minutes, 26 MB)
Lens Adjustments
How to make lense adjustment positioning for best measurement results.
The Polka Dot grid
The Polka Dot grid is compatible with some commercial three-dimensional measurement systems, such as the Phast™
The Grid Analyzer can be used to take very accurate measurement of problem areas in seconds.